Selectie Nu of Nooit 2013 bekend
Het gaat langzaam weer beginnen: de Nu of Nooit of misschien beter gezegd, de Pinkpop koorts! Elk jaar maakt een van de 25 deelnemers kan op een plek op de Pinkpop poster. Over het algemeen zijn het spannende voorrondes door heel Limburg, waar bands, ook uit de hele provincie, het beste beentje voor zetten. Afgelopen jaar won Major Tom de wedstrijd en zo stonden zij dan ook op Pinkpop.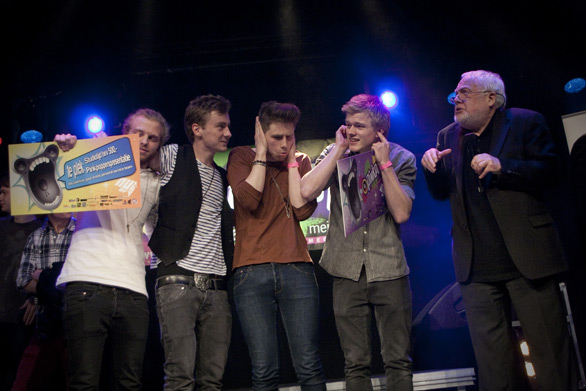 Welnu, intussen is bekend welke bands deelnemen aan de komende editie. Natuurlijk zijn wij extra verheugd om te zien dat er tijdens deze editie weer een aantal "Mijnstreek" bands mee gaan strijden. We zijn benieuwd wat bands als Jamestown, a Jupiter Hymn, Synthetica en Algorythm tijdens Nu of Nooit gaan doen, maar natuurlijk zijn we net zo benieuwd naar de bands van elders. Het wordt simpelweg weer een mooie reeks shows, waarvan er sowieso eentje in heerlen zal plaatsvinden!
Check de data en bands:
1 / Zaterdag 5 januari – Perron 55, Venlo:
The I.T.'s, Black Velcro, Afterparties, Joep, Jimmy Dee
2 / Zaterdag 19 januari – Fenix, Sittard:
River of Brakelights, Bastardi Di Blues, Quramitry, The Unofficials, SonA
3 / Vrijdag 25 januari – Nieuwe Nor, Heerlen:
Junkestra, Moser, Synthetica, The Gobeat, Algorythm
4 / Zaterdag 26 januari –Muziekgieterij, Maastricht:
Jamestown, A Jupiter Hymn, Rebzjie, Champagne Crash, A Nameless Band Called Funk
5 / Zaterdag 2 februari – De Bosuil, Weert:
Burn a Stogger, The Guilt Parade, Fin de siècle, ROOF, Christopher Green
De finale vindt plaats op zondag 17 februari in de ECI Cultuurfabriek te Roermond.