R.I.P. Ollie!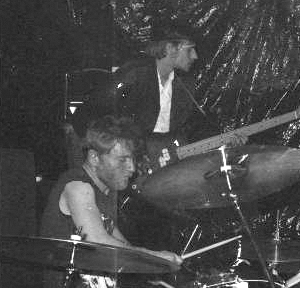 Gisteren bereikte het bericht ons dat Ollie overleden is. Ollie is binnen de muziekscene en met name de punk / kraak scene een levende legende. Ollie was een van de personen die aan de basis stonden van de intrede van punk in deze regio. Terwijl de meesten van ons nog in Pampers rondliepen, speelde Ollie al in The Spoilers, de legendarische punkband opgericht in 1978!
Ollie speelde ook in oa. Gegenmassnahme, maar is toch vooral bekend vanwege zijn rol in Zwaar Klote, de legendarische punk / crust band uit Heerlen. Ollie bleef altijd bescheiden achter zijn drums. Het resultaat daarvan was zijn nickname: "I'm only the drummer".
We herinneren zijn typische stijl van drummen. Geen poeha en toeters en bellen. Ollie drumde op alles, ook al was het gammel!
Ollie zat al een tijdje niet meer achter de trommels, maar verdween nooit uit beeld. Regelmatig kwam je hem tegen in de kroeg, op een festival of gewoon in de Albert Heijn.
Terwijl ik dit schrijf draai ik "South America" van een van de singeltjes die Zwaar Klote ooit uitbracht. Een ding is zeker, de legende zal voortleven! Ollie, rust in vrede!