Selectie Nu of Nooit 2014 bekend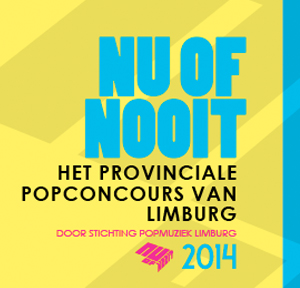 Het is weer zo ver, Nu of Nooit gaat van start! Afgelopen maanden konden Limburgse bands zich weer aanmelden voor dit alom bekende muziekconcours met als grote prijs de fel begeerde plek op Pinkpop. Afgelopen zaterdag maakte mister SPL Paul Moerel live op L1 Radio, de 25 acts bekend die dit jaar gaan strijden om de prijzen. Uit de enorme hoeveelheid bands koos de vakjury onderstaande 25 acts. Dit jaar weer eens flink aantal deelnemers uit onze eigen regio!
De laatste voorronde, in de Nieuwe Nor, is vanuit de doelstelling van deze site de meest in het oog springende. Dit wordt namelijk een heus lokaal feestje met vrijwel alleen maar locals op de line-up!
Check hieronder de diverse voorrondes en de daarbij horende bands. Bekijk wanneer jou favoriete (lokale) band waar te zien is! We zullen de wedstrijd natuurlijk weer op de voet volgen en we zijn dat ook erg benieuwd welke acts er in de finale op 9 maart in Venlo staan. Ga je ook kijken? Via deze link kun je laten zien of je ook gaat!
Voorronde 1
Vrijdag 31 januari 2014 – Perron 55 Venlo
Joep
Men on the Run
Sunday Zombies & the Brain
The Blackwater Experience
The Mothmen
Voorronde 2
Zaterdag 1 februari 2014 – De Boerderij Geleen
Cuda
Heller
Jop Ostendorf
Shelter Four
Southern Sunrise
Voorronde 3
Vrijdag 7 februari 2014 – Muziekcentrum de Bosuil Weert
Drag the Racer
Lambshade
Les Djinns
Phoenix' Ashes
She's Got Legs
Voorronde 4
Zaterdag 8 februari 2014 – Muziekgieterij Maastricht
Amish Winehouse
Cherry Darling
Jamestown
Natugal Mystic
Sparrow Falls
Voorronde 5
Vrijdag 14 februari 2014 – Poppodium Nieuwe Nor Heerlen
Amberjacks
Chain of Dogs
Panacee
Synthetica
Syphonaptera